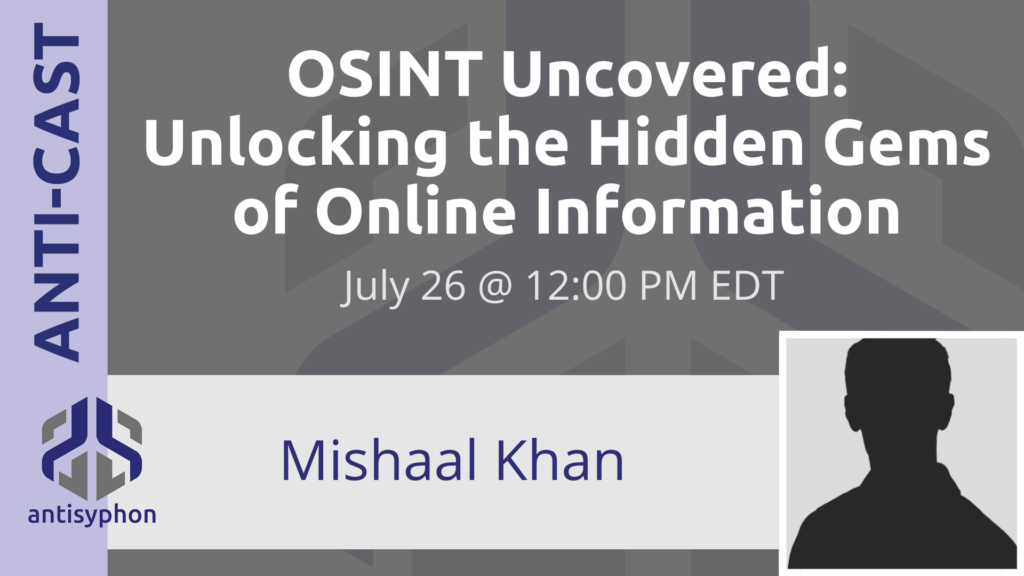 Join us for our next Anti-Cast "OSINT Uncovered: Unlocking the Hidden Gems of Online Information" with Mishaal Khan this Wednesday, July 26, 2023 at 12 p.m. EDT! Register here. Tune in at 11:30 a.m. EDT for some PreShow Banter™.
This Anti-Cast session explores advanced techniques and tools for extracting valuable information from diverse online platforms, social media, public databases, and breaches. By emphasizing responsible approaches to OSINT, attendees will learn how to navigate vast data sources, analyze digital footprints, and uncover the hidden gems of online information. Learn to harness the power of OSINT, as Mishaal walks you through some quick OSINT demos. Stalkers not allowed!
Chat with your fellow attendees in the Antisyphon Discord server here: https://discord.gg/antisyphon — in the #webcasts-livestreams channel
Check out Mishaal's class, "Next Level OSINT," that will be at Wild West Hackin' Fest – Deadwood 2023 for pre-con training! → Check it out here
Download the slides from this webcast below.