Professionally Evil API Testing: A Practical Course for Beginners
March 12, 2024
@
12:00 pm
–
4:00 pm
EDT
Instructor: Jennifer Shannon
Course Length: 4 Hours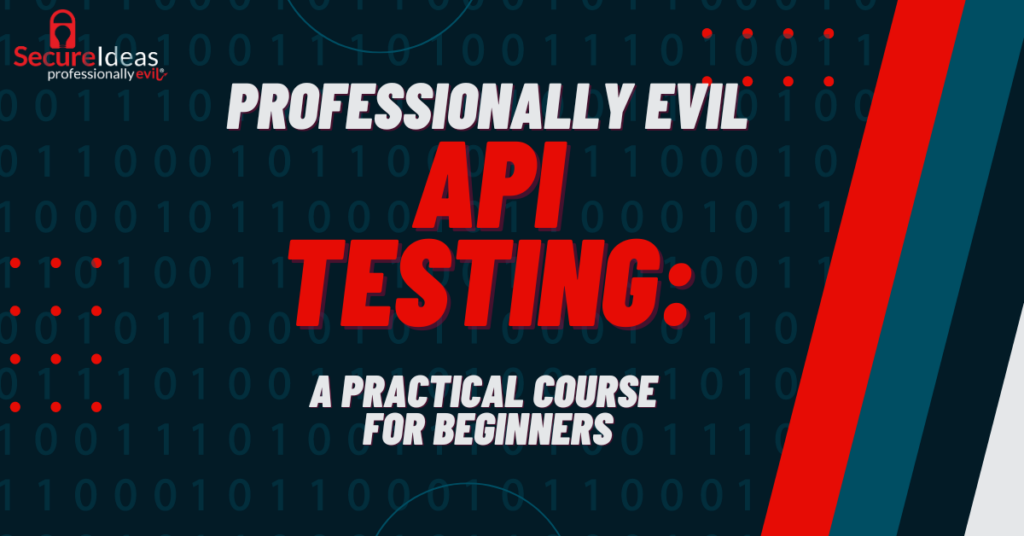 Event Categories:
Location:
Clicking on this button will take you to our registration form on Cvent.
---
Course Description
If you want to learn how to perform security testing on web applications that use application programming interfaces (APIs), this course is for you. APIs are the connective tissue responsible for transferring information between systems, both internally and externally. They are also a common target for cyberattacks, as they can expose sensitive data, application logic, and internal infrastructure. In this course, you will learn the basics of API penetration testing, including:
What is an API and how it works
What are the common types of APIs (SOAP and REST) and their differences
What are some of the most common security risks and vulnerabilities of APIs
How to use tools and techniques to test APIs for security issues
By the end of this course, you will be able to conduct a basic API pen test using a systematic approach and industry best practices. You will also gain hands-on experience with popular tools such as Postman, Burp Suite, Nmap, and OWASP ZAP. This course is suitable for beginners who have some knowledge of web application security and want to expand their skills to API security testing.
---
Pay-What-You-Can and Cyber Range Access
Cyber Range access varies depending on payment level.
---
Course Instructor
Jennifer is a senior security consultant at Secure Ideas with a background in malware analysis, penetration testing, and teaching. An avid computer geek for most of her life, she began her journey in cybersecurity as a SOC Analyst, where she showed an aptitude for penetration testing and malware analysis. Her background as "blue team" uniquely prepared her for guiding clients through remediation and contextualizing findings for their environment.
She graduated with honors from Florida State College at Jacksonville's networking program. While pursuing her degree, she dedicated time to teaching computing skills to underrepresented minorities. Jennifer continues to be passionate about teaching and is eager to share her knowledge with anyone who will listen.
---
Related Events