Anti-Cast | API-ocalypse Now
September 20
@
12:00 pm
–
1:00 pm
EDT
API-ocalypse Now w/ Jennifer Shannon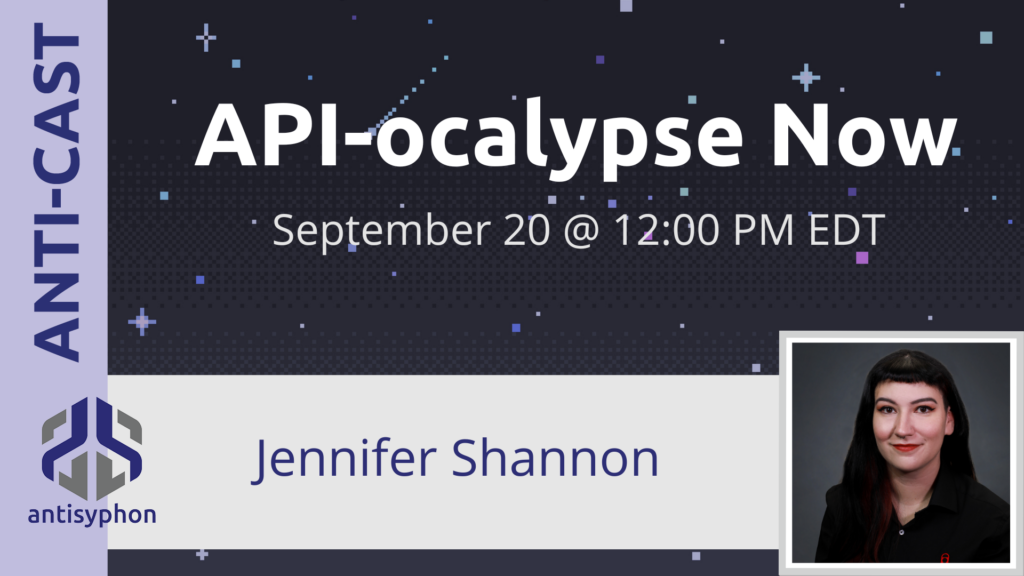 Get ready for a wild ride as Jennifer Shannon, a Senior Security Consultant at Secure Ideas, presents "API-ocalypse Now." In this thrilling and entertaining webcast, Jennifer will showcase the vulnerabilities lurking within APIs and the havoc they can wreak if left unaddressed. Through live pentesting demos, she will demonstrate jaw-dropping exploits, mind-bending injection attacks, and authentication bypass techniques that will leave you on the edge of your seat. Join Jennifer as she navigates the dark side of APIs to help you understand and fortify your attack surface in order to prevent the impending API-ocalypse.
Chat with your fellow attendees in the Antisyphon Discord server here: https://discord.gg/antisyphon — in the #webcasts-livestreams channel
Clicking on this button will take you to a registration form on Zoom.
Join us for PreShow Banter™ at 11:30 a.m. ET
You can also livestream the event on YouTube.
Event Category:
Location:
---
Jennifer is a senior security consultant at Secure Ideas with a background in malware analysis, penetration testing, and teaching. An avid computer geek for most of her life, she began her journey in cybersecurity as a SOC Analyst, where she showed an aptitude for penetration testing and malware analysis. Her background as "blue team" uniquely prepared her for guiding clients through remediation and contextualizing findings for their environment.
She graduated with honors from Florida State College at Jacksonville's networking program. While pursuing her degree, she dedicated time to teaching computing skills to underrepresented minorities. Jennifer continues to be passionate about teaching and is eager to share her knowledge with anyone who will listen.
---
Related Events