Intro to Offensive Tooling
December 7
@
9:00 am
–
2:00 pm
EST
Instructor: Chris Traynor
Course Length: 8 Hours
Includes: Six months of complimentary access to the Antisyphon Cyber Range, certificate of participation, six months access to class recordings.
This class is part of the Antisyphon Snake Oil? Summit 2023. Registration for any Snake Oil? Summit class includes registration for the summit and all of its presentations, talks, and streams.
Clicking on the button above will take you
to our registration form on Cvent.
---
Course Description
In the Intro to Offensive Tooling class, you will learn about many of the tools used by attackers to identify vulnerabilities and exploit them.
This hands-on course covers a variety of offensive tools, such as Nmap, Recon-ng, Metasploit, Proxychains, Responder, and many more. Through a series of practical labs, you will gain experience in using these tools to assess the security of systems and networks.
In addition to learning how to use these tools effectively, you will also explore the ethical considerations surrounding offensive tooling, how to responsibly use these tools to protect sensitive information, and prevent cyber attacks.
By the end of this course, you will have a strong foundation in offensive tooling and be well-equipped to apply your knowledge to a wide range of security challenges.
---
Key Takeaways
A solid foundation in offensive tooling
Technical skills to assess system and network security
Knowledge to protect against cyber threats
Ability to think like an attacker
Who Should Take This Course
General security practitioners
Network Admins
Penetration Testers
Red Teamers
Blue Teamers looking to broaden their knowledge
Application developers & QA
Audience Skill Level
Beginner to Moderate skill level
Student Requirements
Basic knowledge of networking
Basic knowledge of web applications
System Requirements
Stable Internet access
x86 architecture CPU clocked at 2 GHz or higher that is capable of nested virtualization
(Apple Silicon is currently not supported)
A computer with at least 8 GB of RAM. 16 GB is recommended
VMWare Workstation or VMWare Fusion
(VirtualBox and other VM software is not supported)
Windows 10/11, MacOSX+, or a currently supported Linux Distribution 
Full Administrator/root access to your computer or laptop
What Students Will Be Provided With
Slide deck and links to all the material and tools needed with instructions
Virtual machine with all the necessary tools and targets for the course.
---
Trainer & Author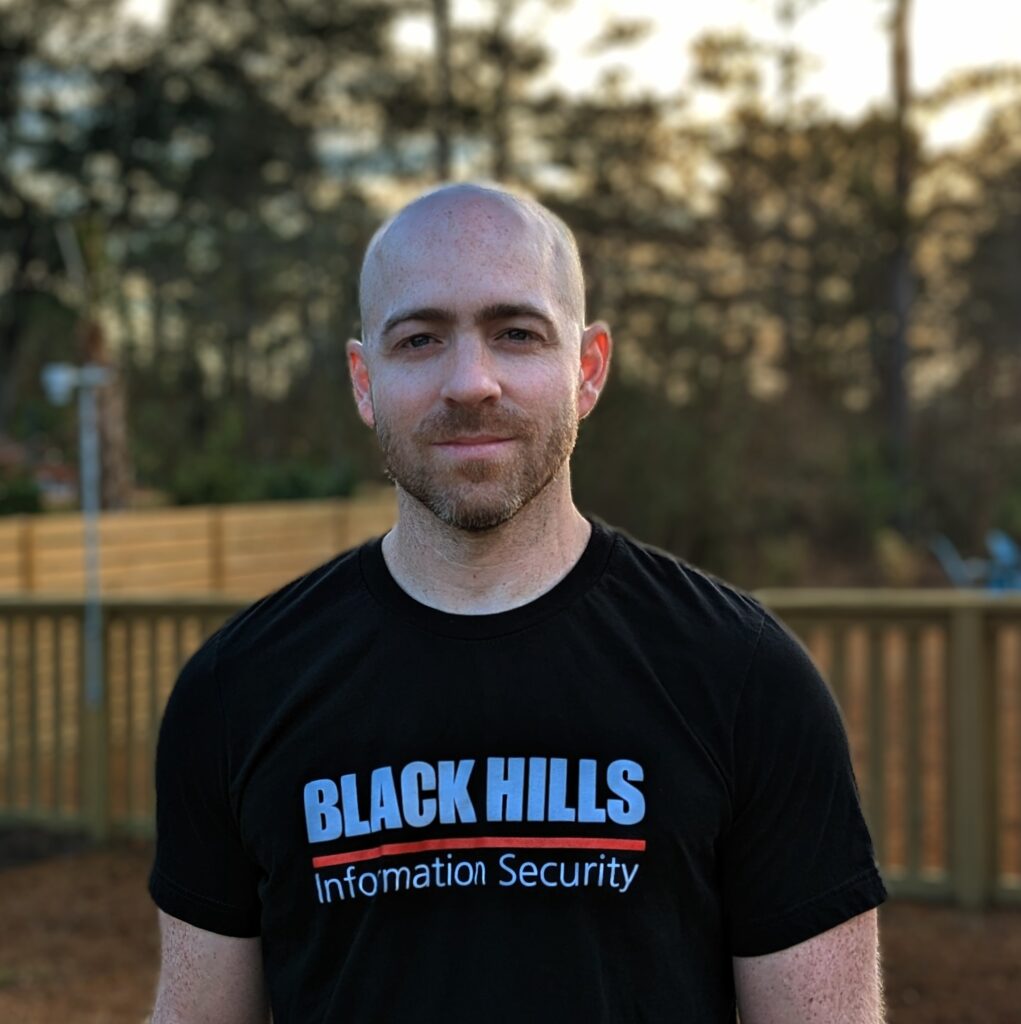 Chris Traynor began working for Black Hills Information Security (BHIS) in July 2022 as a Penetration Tester, where he is responsible for Pen Testing web apps, APIs, and networks. Chris has over 15 years of experience in Web/Mobile App development, QA Automation, and Penetration Testing. He is also a TA for SEC504, SEC542, & SEC560 with the SANS Institute where he is working on becoming an instructor. Chris is an active member of the GIAC Advisory Board, InfraGard, and The Open Organization Of Lockpickers (TOOOL). He thinks the best part of working at BHIS is being surrounded by some of the best minds in the industry (and getting paid to break stuff). When he's not hard at work, Chris enjoys adventuring with his wife and daughter, exercising, and driving his Jeep.
Related Events