Instructors: Kevin Johnson and Nathan Sweaney
Course Length: 16-Hours
Price: $695 – $1095
Includes: Six months of complimentary access to the Antisyphon Cyber Range, certificate of participation, six months access to class recordings.
The Professionally Evil Application Security (PEAS) course is designed to teach developers, IT professionals, and penetration testers of all skill levels. This course focuses on the techniques used to assess and exploit applications; including web and mobile applications, APIs, and HTTP-based systems. We combine these techniques with explanations of the risks exposed and defenses required to improve the security of your organization. The course uses a large number of hands-on exercises to reinforce the techniques and understanding an attendee will gain so that they benefit on the very first day back to work. The course focuses on manual techniques for discovery and exploitation while teaching an industry-standard methodology of reconnaissance, mapping, discovery, and exploitation. This methodology provides a comprehensive standard for assessing applications and APIs.
Course Agenda
Introduction
Standards & Guideline
Preparation

How the web works
Tools used in assessing application
Test Lab & Class Targets
Testing Methodology Overview

Methodology

Reconnaissance
Mapping
Discovery
Exploitation

Server-Side Vulnerabilities

Authentication and Session Management Issues
Access Control Flaws
Sensitive Data Exposure
Injection Flaws
Buffer Overflows
Fuzzing
Testing Web Services
XML External Entity (XXE)

Client-Side Vulnerabilities

Cross-Site Scripting (XSS)
Open Redirects and Forwards
Cross-Site Request Forgery (CSRF)

Logic Flaws

Business Logic Issues
Race conditions and TOC/TOU issues

Logging and Monitoring
Report Writing
Capture-the-Flag Exercise
WHO SHOULD TAKE THIS COURSE
Developers
IT Professionals
Penetration Testers
STUDENT REQUIREMENTS
Students attending this class should, at a minimum, have familiarity with the following concepts:
How the web works
HTML
JavaScript
WHAT EACH STUDENT SHOULD BRING
To perform lab exercises, this class requires the use of a laptop with:
 A minimum of 8 GB RAM
 A minimum of 40 GB Free disk space
Oracle Virtualbox installed and running
Kevin Johnson
Kevin Johnson is the Chief Executive Officer of Secure Ideas. Kevin has a long history in the IT field including system administration, network architecture and application development. He has been involved in building incident response and forensic teams, architecting security solutions for large enterprises, and penetration testing everything from government agencies to Fortune 100 companies. In addition, Kevin is a faculty member at IANS and was an instructor and author for the SANS Institute.
Nathan Sweaney
Nathan Sweaney is a Principal Security Consultant with Secure Ideas. He has a wide range of experience in networking, systems administration, and development spanning 18 years in IT and more than 10 in information security. Nathan has a considerable amount of experience with point-of-sale environments and managing compliance regulations such as PCI. He excels at finding practical, operationally feasible approaches for businesses to mitigate threats and minimize compliance obligations such as HIPAA and PCI.
Nathan regularly conducts security training, both publicly and privately, including secure coding techniques, network and application penetration testing, and more. He has spoken at security events such as DEFCON, BSidesLV, ShowMeCon, and the FBI's Information Warfare Summit, as well as a wide variety of industry-specific events. He's one of the core organizers of BSidesOK and serves on the board of directors for ISSA Oklahoma, OWASP® Tulsa, and the Hackers of Oklahoma Enterprises Syndicate.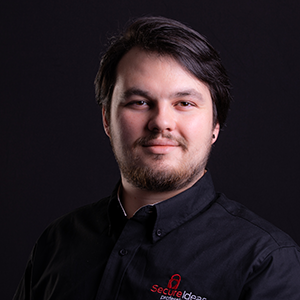 Cory Sabol
Cory Sabol is a senior consultant with a background in web development, game development, and machine learning. He has done substantial research on the topic of container security, focused primarily on Docker and Kubernetes. In addition to using these skills to identify and exploit misconfigurations during penetration testing engagements, Cory has taught workshops on this topic to other security professionals.  Cory also has considerable experience with API security.  He has developed custom API security testing frameworks and tooling.  He has also led the development efforts on the Arrrspace containerized microservice training target.  Currently he is researching game security and developing game security labs and training materials
Please keep checking back for my times!