Instructor: Alissa Torres
Course Length: 16-Hours
Price: $545
Includes: Six months of complimentary access to the Antisyphon Cyber Range, certificate of participation, six months access to class recordings.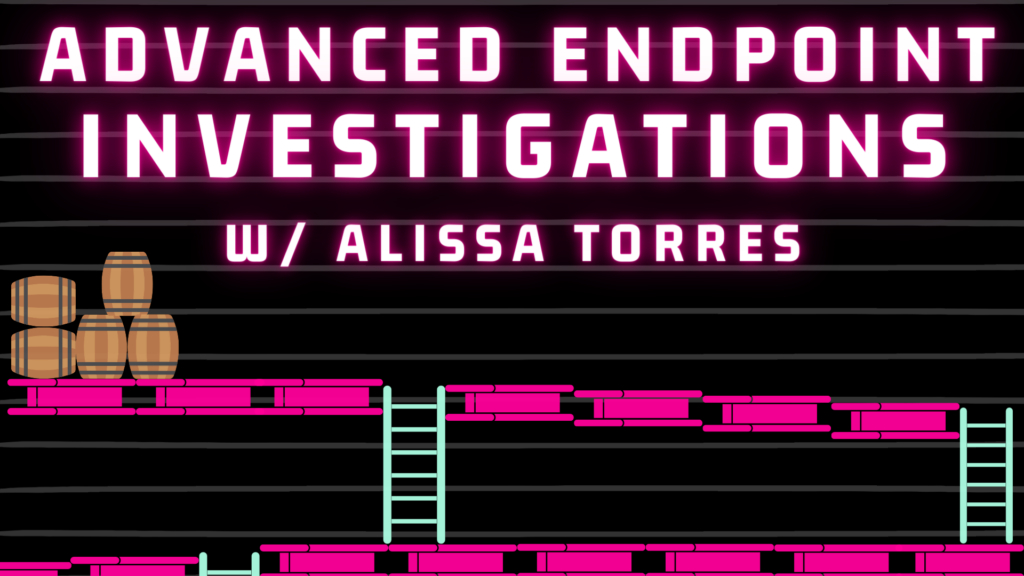 For most security teams, high operational tempo (measured in dumpster fire lumens) incentivizes analysts to stick to well-tailored playbooks that prioritize remediation at the expense of proper incident scoping and root cause analysis. Though modern endpoint security products have significantly improved host visibility, most critical incidents will require the acquisition and analysis of additional endpoint data. This course focuses on four core investigative competencies: endpoint data collection, investigative triage, incident response pivots, and root cause analysis.
After learning about key endpoint artifact and memory analysis techniques for Windows and Linux, attendees will work through real-world scenarios in hands-on labs. We'll pivot from initial detection into host triage analysis to discern attackers' discovery, defense evasion and lateral movement techniques. Attendees will learn to identify key indicators for the generation of high-fidelity detections.
KEY TAKEAWAYS
LEARNING OBJECTIVES:
Gain fundamental knowledge of modern Windows and Linux host artifacts.
Explain logical investigative workflows for host pivoting, data collection, and analysis.
Develop an understanding of use cases for incident response host pivots and root cause analysis.
PERFORMANCE OBJECTIVES:
Develop host triage collection and analysis skills for effective investigations of
Windows and Linux systems.
Properly identify file system, OS, and memory artifacts to support timeline creation and attack path reconstruction.
Build deductive reasoning and investigative prowess through hands-on exercises built around real-world scenarios.
WHO SHOULD TAKE THIS COURSE
Security Operations/Incident Response analysts
Threat Hunters
Tactical Threat Intel analysts
Digital Forensics investigators
Red teamers who want to perfect their operational discipline
AUDIENCE SKILL LEVEL
Basic understanding of Windows and/or Linux OS fundamentals
Familiarity with attack path models, threat actor frameworks, and hunt methodologies
STUDENT REQUIREMENTS
1-2 years of experience in security operations, incident response, or threat hunting.
WHAT EACH STUDENT SHOULD BRING
A computer with minimum specifications of 8GB RAM, 120GB free disk space.
System must be able to run a Windows 10 VM with the following minimum specs: 4GB RAM, 80GB disk space, 2 vCPUs.
System must be able to connect to wireless network for Internet access.
WHAT STUDENTS WILL BE PROVIDED WITH
Attendees will receive a copy of course slides and notes along with a hands-on lab guide detailing step-by-step exercise instructions. In addition, attendees will receive an analyst VM that includes exemplar evidence files from compromised systems.
Alissa Torres is passionate about security operations and empowering analysts to succeed in blue team ops. Her professional experience in various security roles over her career includes forensic investigations, enterprise incident response and threat hunting, security services consulting, and incident response management. Alissa currently serves as the Threat Intel manager at Cigna. Having taught as principal faculty for several pivotal cybersecurity training institutions over the last decade, Alissa has engaged hundreds of skilled professionals around the world, growing a legion of artifact hunters who share a common affinity for adversary tracking. An investigator at heart, she frequently shares accounts of her research discoveries and tales from the trenches at industry conferences.
Tue, February 1, 2022 11:00 AM – 4:00 PM ET
Wed, February 2, 2022 12:00 PM – 4:00 PM ET
Thu, February 3, 2022 12:00 PM – 4:00 PM ET
Fri, February 4, 2022 12:00 PM – 4:00 PM ET
Tue, March 22, 2022 11:00 AM – 4:00 PM ET
Wed, March 23, 2022 12:00 PM – 4:00 PM ET
Thu, March 24, 2022 12:00 PM – 4:00 PM ET
Fri, March 25, 2022 12:00 PM – 4:00 PM ET